Combine Harvesters
Darsh Palesse and Darsh Optima Combine Harvesters are designed with three critical features in mind: efficiency, visibility and comfort. Easy to use and extremely durable, Erisha Agritech combines take harvesting to a whole new level with cutting-edge threshing, separating and cleaning tools — all with enhanced drive systems and advanced monitoring and control systems. It was a big challenge in India to find the best combine harvesters with full features at best price, buyers were confused where to buy how to buy what is price, which combine harvester in No1, top 5 combine harvesters of Gomselmash in India will low cost and complete features.
Track Type Multicrop Combine Harvester

Wheel Type Multicrop Combine Harvester

Tractor Mounted Harvester

Mini Combine Harvester
Technical Specification
Type of Combine Harvesters
Multi crop Track Combine Harvester
Darsh Palesse Track
Combine Harvester
or Track Type harvester is a large machine which is used on farms to cut, sort, and clean grain. Our combine harvester are available with 88 HP and 100 HP engines.
Wheel Type Multicrop Combine Harvester
Reliable technological scheme and low operating costs make DARSH PALESSE as optimal solution for farms with low and average grain yield.
Tractor Mounted Harvester
We are involved in manufacturing, supplying, and exporting an extensive range of Tractor Driven Combine Harvester. For convenient drive, these products are fitted with power steering and can be driven both with or without the front cabin.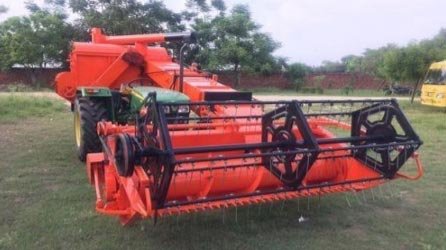 Mini Combine Harvester
DARSH PALESSE GS2 Mini Combine Harvester is compact in size so it can easily work in small fields. Due to its small size, it can easily go through the narrow roads to travel from one field to another.