Balers & Rakes
Erisha Agritech Balers & Rakes Equipment are designed with three critical features in mind: efficiency, visibility and comfort.Type of Balers & Rakes SQUARE BALERS, ROUND BALERS, RAKES. Square baler is a most useful machine in India for resedue management. Round balers also now being used for making bales of parali. Erisha Agritech is a one Company who solved all the questions of farmers that which is the best beler, where to find square balers, how does round baler works, which size of tracrtor is needed to use square and round balers. Farmers can buy suiatable balers and Tractors from our Dealers and Distributors pan India. These balers are now available under various subsidy schemes of Government of India as this solved the problem of polution to avoid burning of parali, husk and resedue of crops in the fields and make them profitable business buy selling bales.
Technical Specification
Type of Balers & Rakes
Square Balers
Square Balers is designed to collect and compress grass, hay or straw into bales. The large diameter of the feeder and its specially bent prongs guarantee continuous and clean pick-up at high operation speed.
Round Balers
The most common type of baler in industrialized countries today is the round baler. It produces cylinder-shaped "round" or "rolled" bales. Variable-chamber large round balers typically produce bales from 48 to 72 inches.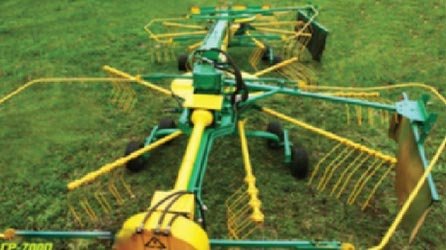 Rakes
A rake is a broom for outside use; a horticultural implement consisting of a toothed bar fixed transversely to a handle, or tines fixed to a handle. Get free shipping on qualified Garden Rakes